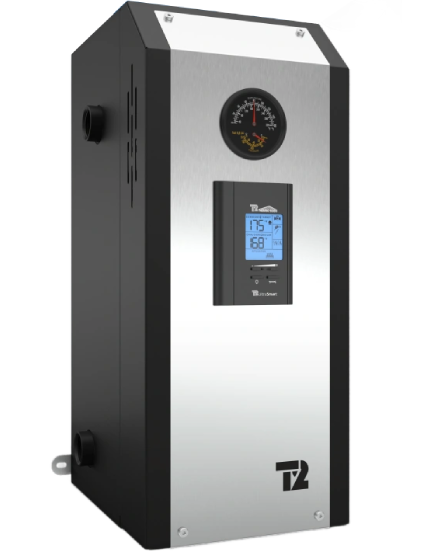 bth Ultra
ELECTRIC BOILERS
7KW TO 36KW
Combomax Ultra
COMBINED ELECTRIC BOILER
AND INSTANTANEOUS WATER HEATER
4.5 KW TO 29 KW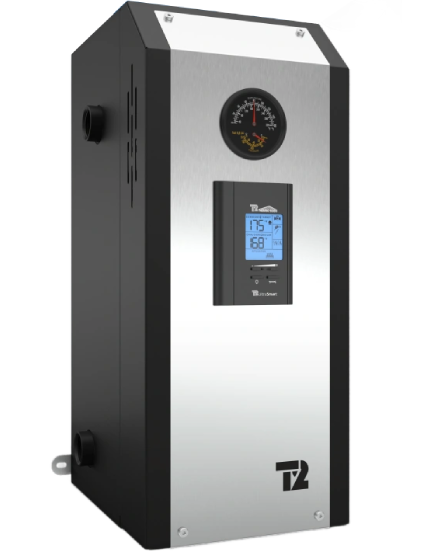 Mini Ultra & BTH
ELECTRIC BOILERS 3KW TO 12KW
MAXIMUM EFFICIENCY
OPTIMAL PERFORMANCE
bth ULTRATM electrical boilers are compact and highly performant. Available in a wide array of performance levels and voltages, these highly versatile systems are very energy-efficient and can be used for residential, commercial and institutional applications. Lightweight and robust, the bth ULTRATM is easily installed and can supply all types of hot water heating systems.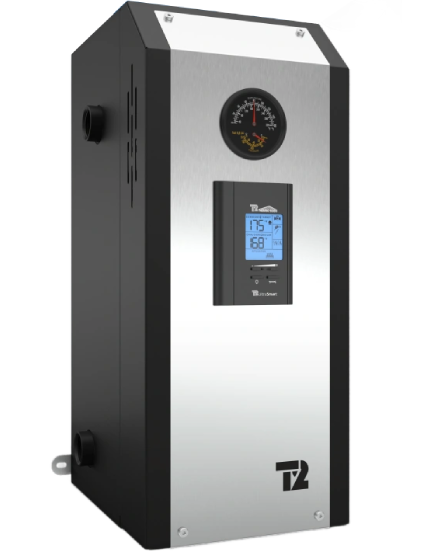 bth Ultra
ELECTRIC BOILERS 7KW TO 36KW
Reliability and performance in compact sizes.
bth ULTRATM electric boilers are available in a wide variety of performance levels, from 7 kW to 36 kW, and with multiple voltage options. They can meet any—and all—of your hydronic heating needs.
Whether you need to heat a condominium, single-family home or commercial building, bth ULTRATM is an ultra-silent solution for new installations or replacement of an existing system. Its compact size is ideal for small spaces. In addition, the piping can be connected in multiple ways, making the on-wall boiler installation very easy.
The bth ULTRATM can be combined with an auxiliary heater for a dual-energy system. Thanks to its T2 UltraSmart ® controller, the boiler provides optimal comfort with accurate temperature management.
Producing no combustion or GHG emissions, the bth ULTRATM is a highly energy-efficient and green alternative. Maintenance is simple and kept to a minimum.
Combomax Ultra
COMBINED ELECTRIC BOILER AND INSTANTANEOUS WATER HEATER 4.5 KW TO 29 KW
THE ULTIMATE COMBINATION
Get the best of both worlds with the ComboMax ULTRA. An electric boiler for hydronic heating combined with an instantaneous water heater, the ComboMax ULTRA is the ideal solution for all water heating needs. Almost maintenance-free, it can help to substantially save both in terms of space and installation-related costs.

A COMBINATION WITHOUT COMPROMISE
As an electric boiler, the ComboMax ULTRA iscompatible with any hydronic heating system. Its combined water heater system uses the stored heat transfer fluid to provide domestic hot water in less than 7 seconds. Potable water flows inside the independent copper coils, which are connected to the domestic hot water in distribution system

ALL THE POWER YOU EXPECT FROM AN ELECTRIC BOILER
Available in two sizes, the ComboMax ULTRA offers performance levels from 4.5 kW to 29 kW for either residential constructions or condominiums. It is just as efficient as conventional electric boilers and can easily heat large buildings of up to 4750 sq. ft.

COMBINED SAVINGS AT ALL LEVELS
The ComboMax ULTRA takes up the same space as conventional water heaters. It is installed in one easy step and requires less material and labour than products that would have been installed separately. What's more: this combination will last over 30 years, which means the water heater will not have to be replaced every 7 to 10 years. Almost maintenance-free, it has a 15-year warranty.

HIGH-QUALITY DOMESTIC HOT WATER
The hot water used for showers, cooking or cleaning all comes from the ComboMax ULTRA instantaneous water heater system. Because the hot water is continuously renewed, users will benefit from exceptionally high-quality hot water and avoid bacterial growth, such as legionella. Domestic hot water is never stored and never in contact with any residue that would accumulate in conventional water heaters. On average, the ComboMax ULTRA 50-24 produces 60% more domestic hot water within an hour than a conventional electric water heater.
Mini Ultra & BTH
ELECTRIC BOILERS 3KW TO 12KW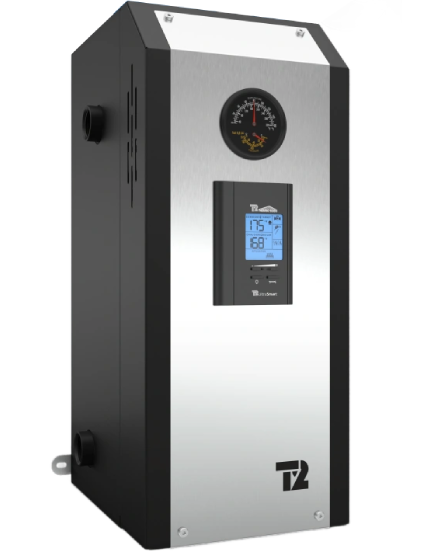 100% COMPACT EFFICIENT COMFORT
Our mini electric boilers are ideal for heating singlefamily homes and condominiums. These compact heaters can effortlessly fit into very small spaces. What's more: the boilers come in a variety of configurations, making them easy to install.
100% compact
Our mini electric boilers are renowned for their compact design. Thanks to their reduced sizes, these heating systems fit into even the smallest of spaces. In addition, the piping can be connected in multiple ways, ensuring an effortless installation.

100% efficient
Our boilers waste no energy. Producing no combustion or GHG emissions, the mini electric boiler is a highly energy-efficient and green alternative. Maintenance is simple and kept to a minimum. The addition of the UltraSmart TM controller also helps to increase overall system performance.

100% comfort
Silent and discreet, mini electric boilers are ideal for single-family homes and condominiums. Whether you need a hydronic system to heat your basement, garage or any other type of application, the compact mini is the intelligent choice for heating.